FREE Shipping
If you buy plus size lingerie or women's plus size clothing that costs $100.00 or more and we're shipping to your Canadian address, enjoy Free Shipping. Eligible orders will be recalculated at check-out and the shipping charges will be dropped. Our Free Shipping offer is with Canada Post Standard delivery. Please see the Exemptions below.
Exemptions
- your order must total $100.00 before applicable taxes
- is not valid with any other offer
- applies to one offer per purchase
- is valid for Canadian orders only
- item has to be reshipped because of incorrect address etc.
- not valid on expedited shipping requests
Processing/Shipping Times for Plus Size Lingerie Orders
Orders are processed within 1 to 3 business days after the order is received. Orders will typically arrive at your address in approximately 3 to 10 business days. Please see the details below regarding in and out of stock items. We stock all our clothing and lingerie styles except for most of our Allure Leather styles. If we do not have an Allure Leather style in stock, it will be shipped from the USA. We will take care of any extra shipping charges but you may need to pay an additional charge for duties.
I Need My Order By a Certain Date:
If you are ordering full figure lingerie or women's plus size fashions for a special occasion or a specific date, please let us know by providing comments in the note section of the order form. We will do our best to ensure that you are not disappointed. If we cannot ship your lingerie or clothing on time, we will contact you within 1 business day.
In Stock Items - GTA Location: In stock items at our location are usually processed and shipped within 1-3 business days.
In Stock Items - If we do not have an In Stock item at our GTA location, we will contact you to advise of when we expect our shipment and the approximate shipping time to you.
Backordered Items (Out of Stock): Please do not hesitate to order out of stock lingerie. If it is labeled out of stock, it is likely that we have already ordered replacements. Shop now and we will put your sexy lingerie aside as soon as it arrives.
Note: We try to ensure that our website is up-to-date with current warehouse inventory levels; however, there are times when our most popular products sell faster than we can update our online store, resulting in an out-of-stock item.
If an item is temporarily sold out, we will notify you via email and will not process your order until we have received your decision with regards to the backordered item(s). Many customers choose to wait for the plus size lingerie or clothing they selected but you may exchange the item for something else or request a refund.
General Shipping Timelines - Standard

Central Canada Customers
Ontario
Quebec

1-5 days after shipping

Eastern Canada
New Brunswick
Prince Edward Island (P.E.I.)
Nova Scotia
Newfoundland & Labrador

5-7 days after shipping

Western Canada
British Columbia
Alberta
Saskatchewan
Manitoba

7-8 days after shipping

Northern Canada
Yukon
Northwest Territories (NWT)
Yukon & Labrador

8-12 days after shipping

U.S.A. Customers

Varies, contact us

International Customers

Varies, contact us
Shipment Confirmation via Email
On the day your order is processed, we will send you an email with a shipment tracking number. Our orders are shipped via Canada Post.
Add us to your contact list to ensure that you receive our e-mails: info@lingerieforplussize.com
Discreet Packaging
We respect your privacy. All plus size lingerie orders are shipped in plain packaging and the word lingerie does not appear anywhere on the outside of the package. The return address will include our company info as follows: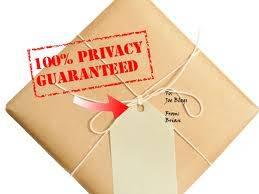 FranBlass
1971 Salem Rd. North
PO Box 31401
Ajax, ON
L1T 0J0
Wrong Address / Unclaimed Items / PO Box
Please ensure that you provide us with your complete and correct address. If we ship an item and it is then returned to us because of an incorrect address, we will send your purchase again but shipping will have to be charged again.
If a package is returned to us "unclaimed" by the delivery company, we will charge additional shipping before reshipping the order.
If you do decide that you want your order shipped to a P.O. Box, you are fully responsible for the item after it is shipped. To ensure a smooth and safe delivery of your package, we recommend that you submit a physical address.
For Your Protection
If your billing and shipping addresses are different, or if you place your order from an overseas country, we reserve the right to request personal identification from you in order to verify the authenticity of your order. Please be prepared to send a Fax or Scanned Image of your Credit Card plus one (1) of the following pieces of ID's.
- Passport
- Driver's License
International Shipping
We are more than happy to ship our plus size lingerie products to international locations. Please note that you are responsible for assuring that our products can be lawfully imported to your destination country. When ordering from us, you are the importer of record and must comply with all laws and regulations of your country. Contact us by email for more information.
Plus size lingerie orders that are shipped to countries outside of Canada may be subject to import taxes, customs duties and fees levied by the destination country.
Any additional charges for customs clearance must be paid by you. We have no control over these charges. Please contact your local customs office for more information before placing your order with us.
If you choose not to accept your package and pay for the taxes, we will either abandon the shipment or have it reshipped back to Canada. All additional fees incurred will be deducted from your purchase amount. If the cost to return the lingerie or clothing is more than or equal to your purchase, you will unfortunately not receive a refund.
Duty Free
If you live in the following cities, provinces or territories in Canada, this plus size site offers worry free shopping - no duties apply to our plus size lingerie and fashions.
Free Shipping Offers apply to most of the places below:
Ontario (ON), Peterborough, Cambridge, Sarnia, Oakville, Manitoulin, Lindsay, Ontario, Courtice, Quebec (QC), Nova Scotia (NS), New Brunswick (NB), Manitoba (MB),
British Columbia (BC), Cariboo | Comox Valley | Fraser Valley | Kamloops | Kelowna-Okanagan | Kootenays | Nanaimo | Peace River Country | Prince George | Skeena-Bulkley | Sunshine Coast | Vancouver | Victoria | Whistler - Prince Edward Island (PE), Saskatchewan (SK), Alberta (AB), Newfoundland & Labrador (NL), Calgary, Edmonton, Alberta, Calgary | Edmonton | Ft McMurray | Lethbridge | Medicine Hat | Red Deer, Vancouver, Surrey, British Columbia, Burnaby (BC), Langley, BC, Winnipeg, Brandon, Manitoba, Saint John, Moncton, Fredericton, New Brunswick, St. John's, Mount Pearl, Cornerbrook, Newfoundland and Labrador, Halifax, Cape Breton, Nova Scotia, Toronto, Ontario, Charlottetown, Summerside, Prince Edward Island, Ottawa, Quebec, Saskatoon, Regina, Saskatchewan, Yellowknife, Northwest Territories, Iqaluit, Nunavut, and Whitehorse, Yukon, Webbwood

Shop online at FranBlass and buy plus size lingerie and clothing. You will likely enjoy free shipping today.